A Unique Quilting Technique
I discovered a surprisingly unique quilting technique that makes quilting affordable and easy for any novice. There a several steps, but if followed, the result will be a quilt you will treasure for years to come.
1. Join your mother on her next trip to the quilting shop. Her enthusiasm will inspire you to begin a new hobby. She may even contribute funds to your endeavor.
2. Pick a pattern and fabrics you love. This is the fun part!
3. Place the bag of fabulous fabric in your basement. It should stay there for at least one year.
4. After you stumble upon the bag of fabulous fabric the next time you are looking for Goodwill donations, scold yourself for your lack of motivation and determine to begin your project.
5. Find a time when your family is engaged in other activities, and you have the whole house to yourself. This step could take another six months, but if you leave the bag where you can see it every day, your motivation will increase until you insist everyone go to a movie.
6. Prepare the fabric by washing it. While you wait, stare dumfounded at the pattern you chose. When the family returns from the movie, suggest they go to another one the next night.
7. Begin cutting your fabric into strips. This is another fun part of the process, and you will feel pleased you can use a rotary cutter.
8. After sending the family to their third movie of the week, start piecing the quilt. It is important to be slightly unfamiliar with your sewing machine and to suffer from perfectionism.
9. Place the strips of fabric and your feeble sewing attempt back in the bag, then offer to join the family for the next movie night. For best results, put the bag back in the basement.
10. When you are gathering your project for a craft weekend with your mother, sister, and sister-in-law, decide to generously donate the fabric and your sewing machine to the event. Bring the afghan you are knitting.
11. Leave your fabric and your sewing machine at your mother's for the next crafting event and admire your knitted afghan.
12. Receive with awe and delight the quilt you envisioned when your mother presents it to you as a gift. She may point out a few imperfections, which you would never have noticed because you know you could not have done better yourself.
13. Show off your mother's gift by posting a photo of it on your blog.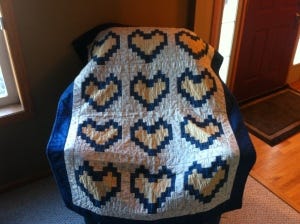 14. Treasure the quilt that reminds you of your mother's love and generosity.